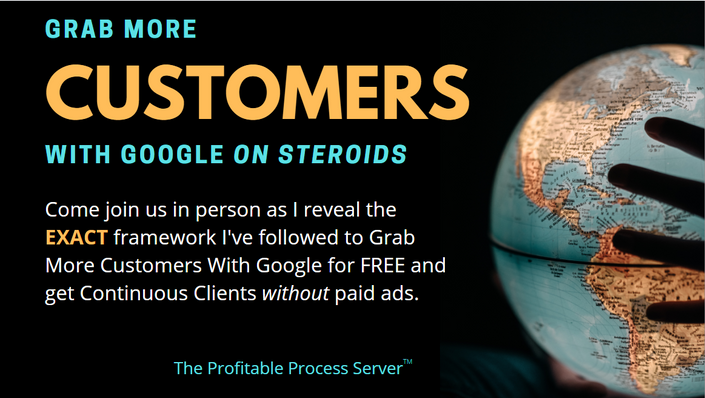 Grab More Customers With Google ON STEROIDS!
What you ABSOLUTELY need to know to rank high, get visibility, AND MOST OF ALL GET CLIENTS with Google FOR FREE!
"I moved up to second place in Kent google search in 12 hours just by changing XXXXX...!"
- Cyndi Partin, Battleborn Investigations
Have you ever wondered why most process servers and private investigators struggle to get more than a handful of clients?
Unfortunately, most business owners make the mistake of thinking that simply putting a website up, joining Facebook groups, or handing out business cards will bring them clients and make them profitable.
It won't.
Think about it! How many process servers or private investigators have you already seen who regularly post in the Facebook groups and at association meetings and are NOT profitable and do not have consistent revenue streams?
That may even be you right now! Yet, despite this, you can easily call to mind some who IS running a wildly successful legal services business and gets their own clients easily and for FREE.
What is it that they have figured out, that most will never realize?
One Word: Google. And FREE Google at that.
Just look around at the experts and successful process server s and private investigators you already look up to. Can you point to any one of them and say they don't know how to get clients and be profitable? They somehow managed to attract hundreds of thousands of clients, and generate hundreds of thousands or millions in sales WITHOUT marketing knowledge, without a strategy and without spending a gazillion bucks?
I know, it sounds silly to even consider! And I don't need to tell you, that in order for you to achieve similar results as these profitable process servers and investigators, you'll need to model and emulate their behavior.
You'll need to start using the same principles and strategies for attracting clients and maximizing profitability so you too can utilize all that Google has to offer and stop wasting your time and money on things that don't work and have more time to properly serve your clients and grow your business.
And the good news is: this ability to get clients organically (free) and run your business profitably isn't a natural born talent or anything having to do with actual serving or investigating ability, it's a skill. And just like riding a bike, when you follow the framework you too can learn and use this skill, and get really good at it!
Imagine what that will do for your business when you know EXACTLY what to do and do it in such a way that clients come to you, they call you, and insist on working with you.
But for a moment, consider the alternative...where do you think your business will be 12 months from now if you choose not to learn how to take advantage of Google, the fabulous FREE resource? If you choose instead to rely on hunting clients down, accepting sub-standard sub work, and lose the ability to be your own boss, set your own prices and own hours? If you choose to spend hours and hours in Facebook groups crossing your fingers and hoping that other process servers or investigators will throw you work?
So, you have a choice: you can learn the exact same principles of FREE client acquisition that the industry's top leaders are already using, or you can do what most struggling process servers and investigators do, and rely on hope and prayer to attract new clients.
If you choose the former, then I look forward to working with you live and in person during this virtual workshop.
Here's a Quick Dose of What You'll Walk Away With At The End of This Training Class:
The Explanation Behind Why Google Is Your Best and FREE Option - Value $97
How You Have Been Missing Out If You Have Not Been Using Google's FREE Services - Value $97
How To Determine Your Target Market AND Outrank Any Competition - Value $197
What To Do On A Weekly Or Monthly Basis To Continue To Expand Your Reach And Attract New Customers -Value $197
Get Sample Content and Graphics for Improving Your Google Ranking, Customer Engagement and Positioning You As An Expert - $47
PLUS! You'll Also Receive The Recordings Of The Entire Training Absolutely FREE ($97 Value).
And, there's more...
BONUSES...for the first 10 that register:
Get a digital copy of my book, Why Doesn't My Website Work?, The Top 5 Reasons Websites Fail To Deliver
Get a digital copy of my book, Making Your First Serve - A Process Server's Guide: What To Know Before You Go
Get a FREE 15 minute laser coaching session with The Profitable Process Server (TM) - Value $75
Class Date and Time:
Next class TBD. You can also work one on one with me if you don't want to wait until the next class.
This course is closed for enrollment.
Your Instructor
Christine combines her personality and experience in her consulting, educational, and entrepreneurial endeavors.
She is the owner and chief marketing officer for OMG! Outsourced Marketing Guru, catering to entrepreneurs, start-up businesses and established companies. In this role she provides business services including, but not limited to, brand development and strategy, digital marketing, business plans, pricing strategy, product development and motivation! Christine also consults as a change agent implementing process improvement, growth strategy, and best practices.
Past companies created and owned by Christine include Flat Rate Process Service, a directory of participating nationwide process server agencies, FingerprintingUSA, providing training, industry resources and continuing education to fingerprinting services providers nationwide, and SiteMadeSimple.com, offering internet marketing, website development and e-commerce solutions for businesses.
Prior to becoming an entrepreneur, Christine spent seven plus years at Citigroup in her role as Vice President, Marketing, Communication and Production.

Christine was a Board Director for Dress For Success of NE Florida and supported the Humane Society of NE Florida. She is the recipient of the President's Volunteer Service Award and currently volunteers for Shop With A Cop and the National Law Enforcement Memorial and it's Ride and Run to Remember.
Christine holds a Master's Degree in Business Organizational Management, a Bachelor's Degree in Criminal Justice/Psychology and has completed over 144 continuing education classes. Christine consults in both the business and criminal justice areas and she relishes the chance to tell a good story or provide technical expertise.
If you would like to have Christine speak at one of your events, please contact us by email.