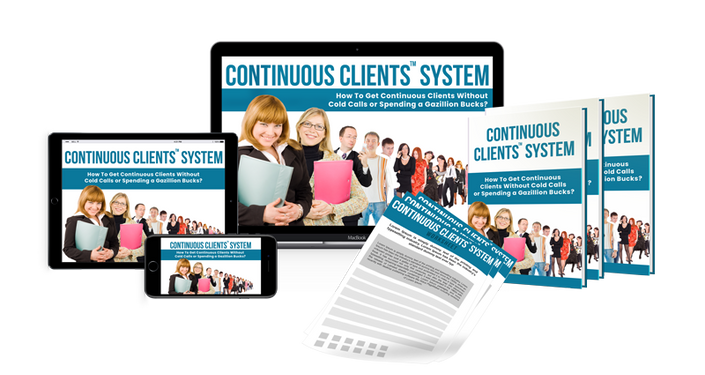 Continuous Clients (TM) - March 2020
How To Get Continuous Clients Without Cold Calls, Pounding The Pavement or Spending A Gazillion Bucks
How To Generate Continuous Clients Without Cold Calls, Pounding The Pavement or Spending A Gazillion Bucks
Continuous clients are the key to business success and freedom and are easily attainable through my Continuous Clients (TM) System.
Before I tell you about the program, let me tell you a story...
I started my process service business in 2008 and thought it would be a small addition to my private investigation work.
My desire was to be successful so I would have the freedom to create my own destiny and never work for someone else again.
I was struggling to find lawyers as a solid source of income because they don't hang out at most networking events and it's difficult to get your foot in the door. Worse yet, many of them were getting laid off due to the recession.
I was fearful because my mom started her own business when I was in high school and could never generate enough money. We never had "enough". I knew I didn't want that for myself and I was bound and determined to not let that happen.
The problem was that no one wanted due diligence and employee background checks, which were supposed to easily be the backbone of my investigations business. The business owners didn't care and trying to get in front of the attorneys at their offices was next to impossible.
I felt like an idiot and I stressed over it every day. I remember leaving my last Chamber lunch. I had used up my two free "try before you join" lunches in each of the cities, the rent was due and my credit card was maxed out.
I remember driving down the street practically screaming on the phone to my friend, "What do I DO?" "How do I get a good job and is it REALLY going to be McDonalds?"
That's when I realized that even though the economy was bad, and the law firms were tanking and laying off lawyers, individual people WERE still suing each other trying to go after any money that was available.That meant they needed PROCESS SERVERS!
I had an aha moment and decided to switch from focusing on investigations and one lawyer client to a whole bunch of individual process server clients. You know, the eggs all in one basket thing WASN'T working.
I decided to focus on VOLUME and even if I had to lower my prices, there were WAY MORE regular people who needed a process server to move their cases forward.
The problem was I worked out of my tiny home office in a small city. I knew there were 6,000,000 potential clients in the huge metro area where I lived. In fact, there are over 9,000 square miles in just my county alone. I had no idea how I was going to get these clients to see me and learn about what I had to offer. It seemed to be literally a needle in a haystack. But I WAS DETERMINED!
I reflected on my advice I gave and work I did for what I considered "regular businesses". You see I was fabulous at driving traffic for brick and mortar clients but I had never felt the "need" to do it for investigations and process service, because, after all, you were just supposed to find a good lawyer or two to work for, and that was all you needed. Right? WRONG!
So, I took what worked for my other clients, along with my internet marketing skills and developed a way to get in every client's face ONLINE. I could be everywhere, in front of all those 6,000,000 people at the same time. Better than that, it works across the United States too!
After creating what I now call my Continuous Clients (TM) system, I was not only making enough money but I proved to myself that it could be done and I didn't have to take a J.O.B. Best yet, I wasn't going to end up "like my mother" - for those of you that understand. Fact is, at one point, it worked so well, I had to shut it off :) Now wouldn't you LOVE that problem?
My Continuous Clients System is literally your roadmap to success, bringing clients right to your door - well, the physical one if you have it, or else your virtual one!
In this 6 week program, you will learn:
Secret #1: How To Be Everywhere AND Outrank The Competition From Your Home Office
Secret #2: How To Set This Up In Less Than 20 Minutes, Even If You're Not A Nerd
Secret #3: How This System Pays For Itself Over And Over Again AND Never Have To Pay For Clients Again
Here's what some of my clients have to say:

She's given me great ideas and direction on how to market my creations, and has even helped me further expand on the ideas I already had. She continues to be a fantastic resource that has taken me to a place I never thought I'd venture into. She has been extremely patient with all the questions I always have as well on top of the great direction she provides.Above all, Christine has given me the confidence to know I can do whatever I set my mind to because of the belief she has in me herself. She is my go-to and I am continually grateful that she is there for me." Melinda Kilbeck, MyMandalaLife.com
"Christine has been with me since the beginning as a trusted business resource. I know that I can reach out to her for no nonsense advice. She is able to pare down broad subjects, such as the technology involved in search engine optimization and social media marketing, so you get it – the what, the why and the how – and she provides effective, affordable options." Meryl Schmitz,Crismon Peaks Assisted Living LLC

"Everything you shared was absolute gold. If you're not getting results, you need to listen to her! I know I am!" - Tony Anthony, Private Investigator, Dark Horse Intelligence
How fabulous would it be to have continuous clients all the time?

You get them when you institute my Continuous Clients System.
When you purchase the system, you get:
6 live one on one training sessions with me, Christine, where I tell you EXACTLY what I did
Not only do I tell you, but I show you examples
These sessions are recorded so you can watch them again and again
You can attend from your computer, tablet or phone
PLUS these ADDED BONUSES:
A SEO template for your business
6 custom Graphics for Social Media
My SEO book, Why Doesn't My Website Work? The Top 5 Reasons Websites Fail To Deliver
My Grab More Customers With Google Course
Get 2 Months Regular Membership in The Profitable Process Server Mastermind Group
A Profit Maximizer Listing In our Directory
Now, you might be saying, "WHOA, this sounds great but I'm not techy..." That's okay, because you don't have to be.
And, you might say, "I don't have a lot of money or time." You can start small, usually at around $30 a month, which you can cover with just one serve!
Maybe, "Ugh, how long is this gonna take?" You just have to spend a few minutes a month checking in and then adding to what's already in place.
Or, you may say, "Christine, how do I know it will work?" Which is normal, but I PROMISE you it will.
Here's A Recap of EVERYTHING YOU"LL GET When You Invest In Your Business Today!
Continuous Clients System ($1,299 Value)
A SEO template for your business ($29 Value)
6 custom Graphics for Social Media ($199 Value)
My SEO book, Why Doesn't My Website Work? The Top 5 Reasons Websites Fail To Deliver ($9.99 Value)
2 Months Regular Membership in The Profitable Process Server Mastermind Group ($39.94 Value)
A Profit Maximizer Listing In Our Directory ($140)
My Grab More Customers With Google Course (FREE)
Total Value: $1,716.93
You pay only $497!

Your Instructor
Christine combines her personality and experience in her consulting, educational, and entrepreneurial endeavors.
She is the owner and chief marketing officer for OMG! Outsourced Marketing Guru, catering to entrepreneurs, start-up businesses and established companies. In this role she provides business services including, but not limited to, brand development and strategy, digital marketing, business plans, pricing strategy, product development and motivation! Christine also consults as a change agent implementing process improvement, growth strategy, and best practices.
Past companies created and owned by Christine include Flat Rate Process Service, a directory of participating nationwide process server agencies, FingerprintingUSA, providing training, industry resources and continuing education to fingerprinting services providers nationwide, and SiteMadeSimple.com, offering internet marketing, website development and e-commerce solutions for businesses.
Prior to becoming an entrepreneur, Christine spent seven plus years at Citigroup in her role as Vice President, Marketing, Communication and Production.

Christine was a Board Director for Dress For Success of NE Florida and supported the Humane Society of NE Florida. She is the recipient of the President's Volunteer Service Award and currently volunteers for Shop With A Cop and the National Law Enforcement Memorial and it's Ride and Run to Remember.
Christine holds a Master's Degree in Business Organizational Management, a Bachelor's Degree in Criminal Justice/Psychology and has completed over 144 continuing education classes. Christine consults in both the business and criminal justice areas and she relishes the chance to tell a good story or provide technical expertise.
If you would like to have Christine speak at one of your events, please contact us by email.