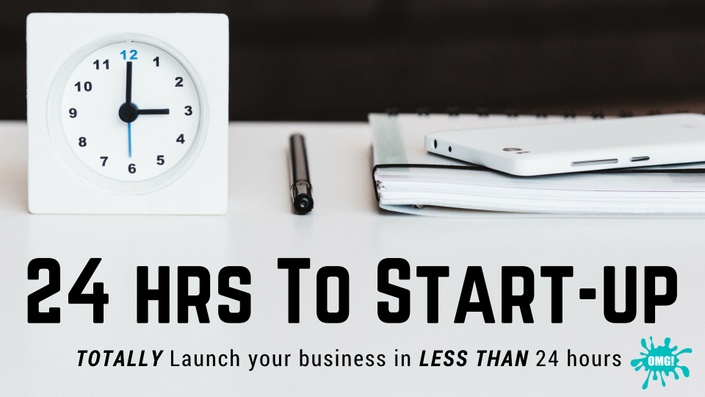 24 Hours To Startup - For Process Servers - September 2019
Finally start your Process Server business in under 24 hours for under $100!
I'm Ready To Buy Now!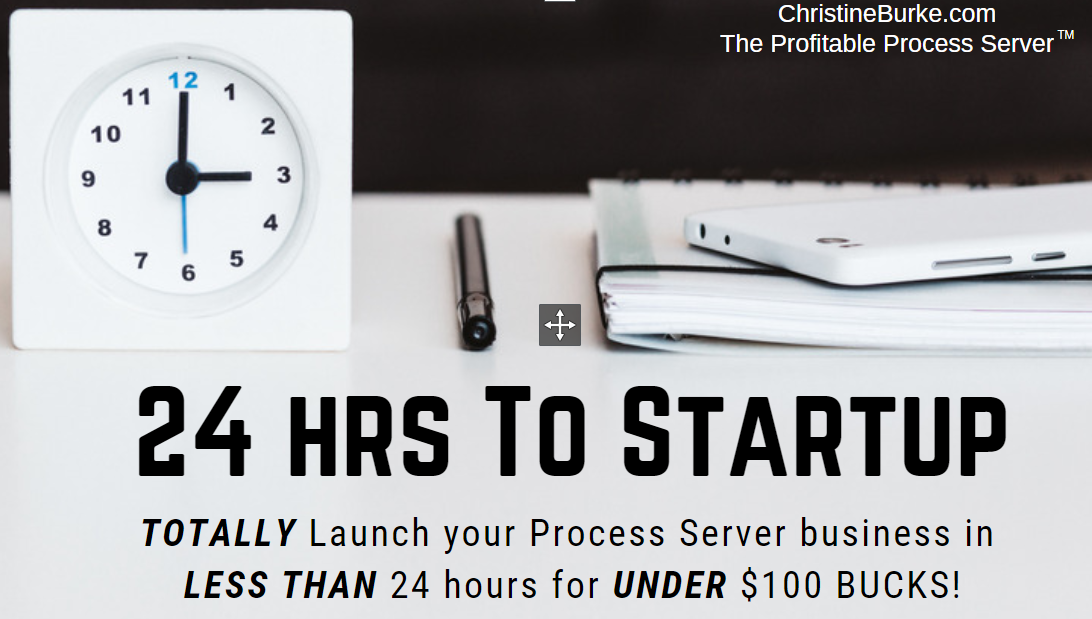 Cool name, huh?
What Is It?
Well, it's exactly what it says it is...24 hours until you have your business up and running and for less than $100!!!!
You've probably read about how great it is to have your own business, you've probably taken some marketing classes and you might have even gone to school and gotten a business degree. And, where has that gotten you? It's time to just STARTUP already!

What's In It?
Our program provides tangible tips, techniques and the technology to get you up and running, quickly, easily and affordably.
These are the staples of your business, such as a business plan, logo, domain name, website, phone service, legal setup, business cards.
We've found the way to do it quickly and affordably.
What Do I Get?
You get 24 lessons from ME! Yes that's right - 24 hours of training from me in the areas of:
* Your Purpose
* Naming Your Business
* Your Logo
* Your Domain Name
* Payment Processing
* Communication Systems
* Scheduling
* Smart Business Systems
* Website Setup
* Licensing
* Business Structure
* Video Capture and Editing Software
* Your Business Plan
* Search Engine Optimization (SEO)
* Your Workplace
* Business Banking
* Marketing Plan
* Metrics
* Creativity and Design Software
* Products and Services
* Creating Passive Income
* Conferencing Software
* Professionalism
* Workbook & Templates
* and more!
We've gotten down to the nitty-gritty and we give you the essentials needed to start and run your successful business.
Think of this as the infrastructure and support system which will allow you to market to and acquire new customers while pursuing your passion.

And There's MORE - BONUSES!
When your purchase the class you get:
A FREE Profit Maximize Listing in The Process Server Source Directory plus instruction on how to fully utilize it.
My eBook Making Your First Serve: A Process Server's Guide - What You Need To Know Before You Go
Advance purchasing on the next phase of your business and special pricing on my Continuous Clients (TM) program.
How Do I Attend?
Each class is available on computer, tablet or phone - wherever there is internet access! You can work as quick or slow as you need to and work around your schedule. And, you can take the classes in the comfort of your own home.
Why Should You Buy This Course From Me?

Well, you can check out my bio below but the most important reason is that THIS is the same system I created and use day to day in my successful businesses.
This is the same system I have taught to my clients that has helped them get going and get results fast.
ACT FAST TO SAVE! Regularly $497 - NOW only $298!!!!!!
I am offering 5 Early Bird spots, @ 50% off for those who know what they want and are ready to get it!
You must enroll and pay in full no later than August 18, 2019 to get the Early Bird Bonus.
MONEY BACK GUARANTEE

I like to put my money where my mouth is and I guarantee you that if you follow and implement my complete system and do not have a fully functioning business, I will fully refund your money.
"I have read several of Christine's books and taken one of her classes. I don't think I could have gotten my business off the ground without her. She also offers so much more insight with her Facebook group, personal FREE one on one call and other classes. I will be taking more of them in the future." Cyndi Partin, Battleborn Investigations
Your Instructor
Christine combines her personality and experience in her consulting, educational, and entrepreneurial endeavors.
She is the owner and chief marketing officer for OMG! Outsourced Marketing Guru, catering to entrepreneurs, start-up businesses and established companies. In this role she provides business services including, but not limited to, brand development and strategy, digital marketing, business plans, pricing strategy, product development and motivation! Christine also consults as a change agent implementing process improvement, growth strategy, and best practices.
Past companies created and owned by Christine include Flat Rate Process Service, a directory of participating nationwide process server agencies, FingerprintingUSA, providing training, industry resources and continuing education to fingerprinting services providers nationwide, and SiteMadeSimple.com, offering internet marketing, website development and e-commerce solutions for businesses.
Prior to becoming an entrepreneur, Christine spent seven plus years at Citigroup in her role as Vice President, Marketing, Communication and Production.

Christine was a Board Director for Dress For Success of NE Florida and supported the Humane Society of NE Florida. She is the recipient of the President's Volunteer Service Award and currently volunteers for Shop With A Cop and the National Law Enforcement Memorial and it's Ride and Run to Remember.
Christine holds a Master's Degree in Business Organizational Management, a Bachelor's Degree in Criminal Justice/Psychology and has completed over 144 continuing education classes. Christine consults in both the business and criminal justice areas and she relishes the chance to tell a good story or provide technical expertise.
If you would like to have Christine speak at one of your events, please contact us by email.